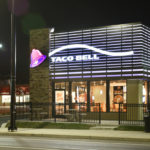 Later this year, Taco Bell will be teaming up with TerraCycle to melt down sauce packets to reuse for raw materials.
Taco Bell announced a new partnership with TerraCycle, known as a company "renowned for collecting traditionally non-recyclable materials"—to give the currently non-recyclable plastic packets a second life.
TerraCycle is not new to working with the food and beverage industry. They have partnered with everyone from Burger King to Anheuser-Busch.
Taco Bell says they're the first fast food chain to work with the forward-thinking recycling company to attempt to deal with "flexible film packets." And the project, which is set to launch "later this year," could have a big impact: Taco Bell says customers tear through about 8.2 billion sauce packets every year in the U.S. alone.

Taco Bell becomes first in industry to team up with @TerraCycle to recycle hot sauce packets. Read details of the initiative here: https://t.co/nf6uUzBOj4 pic.twitter.com/uVNHc2796D

— Taco Bell News (@TacoBellNews) April 19, 2021
"In the food industry today, there is no widely available solution for recycling the flexible film packets that are so commonly used for condiments," Liz Matthews, Taco Bell's global chief food innovation officer, stated. "So, we're thrilled to leverage the expertise of TerraCycle to recycle our iconic sauce packet packaging in a way that's as bold and innovative as our menu."
"Together, Taco Bell and TerraCycle will push the quick service industry by finally finding a way to recycle this type of product," TerraCycle CEO and founder Tom Szaky added. "This effort takes us one step closer to keeping packets out of landfills and our mission of 'Eliminating the Idea of Waste.'"
The fast-food chain offered a couple of tips for creating less hot sauce packet waste while customers wait for the new program to get up and running.
"If you don't use each packet from your Taco Bell order, save it for later to add some kick to other meals."
Thoughts on this?
Photo| iStock