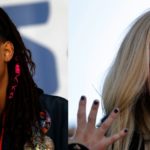 Willow Smith is making a huge splash in the pop-punk world. It was only a matter of time before she teamed up Avril Lavigne.
The duo's track, "Grow," was also joined by drummer Travis Barker. No surprises here, Smith and Barker did collab on the viral TikTok song "Transparent Soul."
"I wanted to open myself up a little bit more and not just be so anti-social in the studio," Smith said in an interview with V magazine. "I'm so excited that I'm going to be having a song on the album with Avril Lavigne. She is so iconic. From [ages] 13 to 16, she was my idol. It's really nice to be able to have a quintessential pop-punk record with the pop-punk queen."
Take a listen to the track below.
Check out Smith's new album, lately I feel EVERYTHING, which is currently streaming.
Photo| Reuters – Steve Marcus & PATRICK T. FALLON