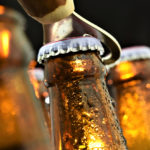 Pretzel beer, but not just a bit of pretzel flavoring. Actual pretzels.
New York's Captain Lawrence Brewing and Snyder's of Hanover for two releases combining that classic pairing of beer and pretzels.
Launched to coincide with Oktoberfest, this "first-ever Snyder's of Hanover pretzel beer collection" — called Snyder Bier — comes in two varieties: Pretzel Märzen and Pretzel Frücht. The Märzen is billed as a lager that blends "a classic malty taste with elevated notes of slow-baked Snyder's of Hanover Mini pretzels." And the Frücht is described as a "gose-style ale brewed with Snyder's of Hanover pretzels, passion fruit and guava" for a profile that balances sweet and savory.
View this post on Instagram
"With the possibility that Oktoberfest events may need to be canceled or move to virtual for a second year in a row, we wanted to give consumers an easy way to bring the spirit of the festival home," Rachel Sasser — director of marketing, pretzels, nuts and popcorn at Campbell Snacks — stated. "The mixture of our slow-baked pretzels with Captain Lawrence's refreshing brew is guaranteed to make you want to celebrate Oktoberfest from wherever you are."
These new brews will be available in four-packs of 16-ounce cans at SnyderBier.com. Soon to be sold at retail locations.
View this post on Instagram
Photo| iStock