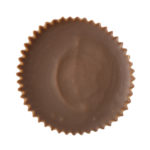 Reese's is selling its largest Reese's Peanut Butter Cup ever. A pie-sized beauty that will make the lucky people who score one the best guest at every Turkey Day gathering.
You'll need to slice it up to actually eat it, this pretty much is a pie. One that measures 9-inches in diameter and weighs 3.4 pounds.
"When you bring together friends and family for Thanksgiving dinner, no table spread is complete without dessert," said Bo Jones, senior associate brand manager at Reese's, in a statement. "At Reese's, we wanted to create a dessert that everyone wants a piece of. You can thank us later."
Only 3,000 of these record-setting candies will be for sale "while supplies last." Which we expect will be for about 40 seconds. If you hope to be one of the lucky few to also nab one ($44.99), head to The Hershey Company's official website.
Your Reese's Peanut Butter Cup just got super-sized.

Enter the 3.4-pound peanut butter cup "pie" that's 7,680 calories: https://t.co/BpXAKEH4CX

— MarketWatch (@MarketWatch) November 15, 2021

Photo| iStock