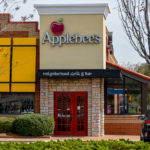 Applebee's has rolled out exclusive fried food coated in Cheetos' cheesy dust.
The menu features Boneless Wings and Cheese Bites breaded with Cheetos crumbles for crunchiness and flavor.
You can choose sauces served for the Cheetos-flavored wings to kick up the level of cheesiness with either the original Cheetos Wing Sauce or Cheetos Flamin' Hot Wing Sauce for an extra kick.
In celebration of the release, Applebee's is releasing the Shirtkin, a shirt-napkin hybrid that allows you to wipe your saucy hands with ease.
Applebee's Cheetos Boneless Wings and Cheetos Cheese Bites are available at Applebee's stores for a limited time.
Applebee's x Cheetos®!

🤯🥵🤯🥵🤯 🔥💥🔥💥🔥 pic.twitter.com/nFhHCN3RfL

— Applebee's Grill + Bar (@Applebees) November 14, 2021
Photo| iStock